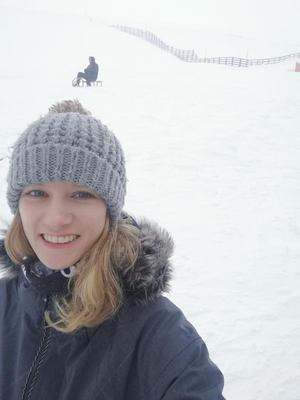 PhD candidate, Universitätsklinikum Erlangen
Ich habe an der FAU Erlangen meinen Bachelor in Biologie gemacht und mich im Master dann an der Universität Freiburg auf Immunbiologie spezialisiert. Da ich die Krebsforschung schon immer sehr spannend fand habe ich mich dazu entschlossen, meine Promotion in diesem Bereich zu machen. Da ich bereits in der Masterarbeit mit Tierversuchen konfrontiert wurde habe ich angefangen mich näher mit diesem Thema zu beschäftigen und festgestellt, dass es leider immer noch sehr viel Unwissen und Vorurteile gibt und dass selbst Wissenschaftler nicht gerne darüber reden. Um an diesem Misstand etwas zu ändern, habe ich angefangen mich bei dem Verein Pro-Test Deutschland e.V. zu engagieren. Kommunikation ist ein essentieller Bestandteil der Forschung. Umso wichtiger ist es, dass dieser Austausch auch mit Menschen außerhalb der Wissenschaft stattfindet.
In a video conferencing call...
...I am happy to talk about my research.
...I can show live experiments or equipment, e.g. FACS Analyse, ÄKTA Chromatography, ELISA, Zellkultur
...I am happy to answer questions about university and career-related questions.
...I am happy to moderate a discussion.
...I am happy to speak to others (e.g. to journalists, museums).
Related School Subjects
Biology, Chemistry
Keywords
Languages
English, German